Cheese Boards 4 Life
When it comes to assembling the ideal cheeseboard customers will often come to me and say something along the lines of "I...umm...have some people coming over." And there the conversation begins and sometimes ends. Cheeseboards needn't be complicated but here are a couple of ways you can assemble it. Buy about 2-4 ounces per person and you're set.
A little of this, A little of that.
Column A: One Cow, One Goat, One Sheep
Column B: One Hard, One Creamy, One Funky
The most easily accessible assembly while still being interesting. This formula helps insure you don't just end up buying three bries and calling it a day. Try to mix and match across one from each milk category. For example Cow Creamy (Brie), Goat Funky (Any French Goat Cheese), Sheep Hard (Pecorino or Manchego). Most of these combinations can be found at any well-stocked market or our online storefront. See below for a suggestion guide.
Cow
Hard - Beemster 18 Month Gouda, Prairie Breeze Cheddar, Parmigiano Reggiano
Creamy - Brie Mon Pere, St. Stephen, Triple Creme Bries
Funky - Taleggio, Bleu d'Auvergne, Stilton
Goat
Hard - Garrotxa, Midnight Moon
Creamy - Fresh Chevre, Goat Camembert, Mohawk Mist
Funky - Cayuga Blue, Valencay
Sheep
Hard - Pecorino, Manchego, P'tit Basque
Creamy - Nancy's Camembert, Kinderhook Creek
Funky - Roquefort, Serrra de Estrella
Instead of doing the heavy lifting of pulling together 3-5 disparate cheeses how about picking one very large piece and surrounding it with the appropriate accompaniments? Some ideas.
Triple Creme Bries
At some shops big and large you can get an entire wheel of a bloomed rind like a Brillat Savarin (good for parties of 15+) or Harbison (good for parties of 8). Buy it and cut the top off while keeping the bottom and side rims intact. Huzzah! Fancy party dip. Serve with breadsticks, fresh vegetables, and cured meats like soppressata or Saucisson Sec.
Parmigiano Reggiano
An ideal companion to an Italian evening. Put out a 3-4 pound wedge with a wedged knife and let your guests go at it. (A good piece will break easily under the weight of a knife point). Serve with tender slices of Prosciutto di Parma, mixed olives, fresh grapes, and some very good Balsamic Vinegar for dipping.
Gouda
Along the same idea lines as the Parmigiano Reggiano, chunk the gouda into big, crunchy pieces and serve with fresh fruit and salty nuts. Some goudas and gouda types like Mimolette are strikingly colored making them a beautiful table centerpiece.
Blue
My personal favorite dessert accompaniment. If you the kind of host who revels in after-dinner drinks like port, scotch, and cognac (my kind of party) then a big wedge of blue is a great salty and rich counterpoint to those sweet digestifs. Serve with honey, dark chocolate, fresh stone fruits like plums and peaches, and panforte.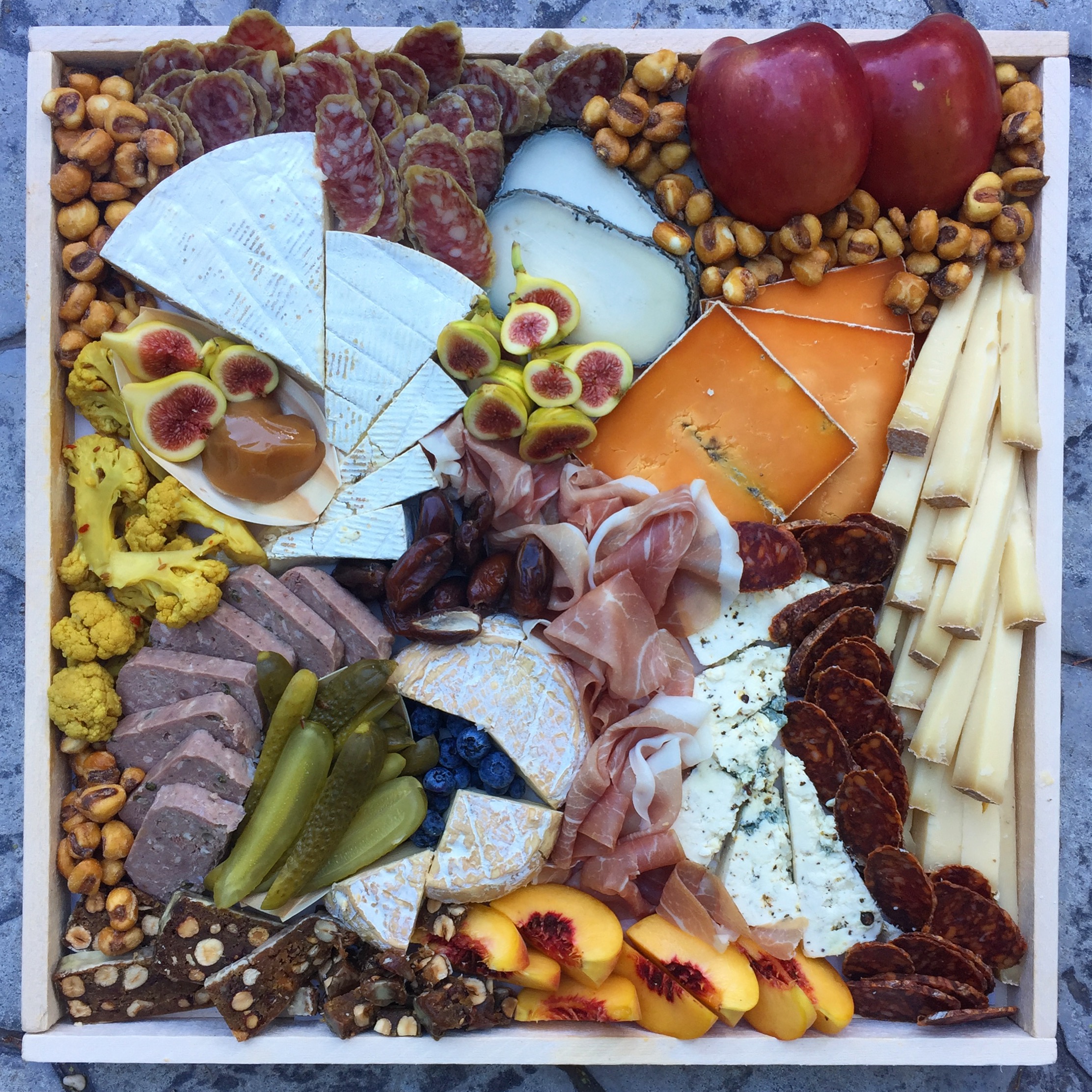 Pick an attractive platter with flat straight sides

I hate curved sides on a platter. Like really hate them. I like to fill out a platter straight to the edges. The straight square sides give you an opportunity to make your presentation look abdundant. Which brings me to my next pointer.

Make your platter look enticingly full.

This is where I rely on the kindness of dried fruit and nuts. They help fill in those little spaces between cheeses and meats. No one wants to eat the last item. I find that filling in each of those little spaces makes everything look beautiful and approachable.

Pick sweet and savory accompaniments.

Think jams, membrillo and fresh fruits for sweet. Pickles, spicy nuts, and fresh vegetables for savory. Reach outside your comfort zone for at least one unusual accompaniment and you might surprise yourself.
Cheese is delicious and beautiful. At the end of the day its unlikely you go horribly, terribly wrong. And if you do? Just serve more wine!